Paintless Dent Repair Regina
Dented specializes in the environmentally friendly art of paintless dent repair otherwise known as PDR. We use this repair method to remove unsightly door dings, minor dents and even hail damage from a vehicles exterior panels. We use this method on all types of vehicles including Cars, Trucks, SUVs, Vans, and even Motorcycles. We can also use this method to remove large dents in plastic bumpers.
Our Regina location, located at 177 Leonard St, offers industry leading paintless dent repair, a strong commitment to customer service, and a quality control process which is second to none.
Paintless Dent Repair Regina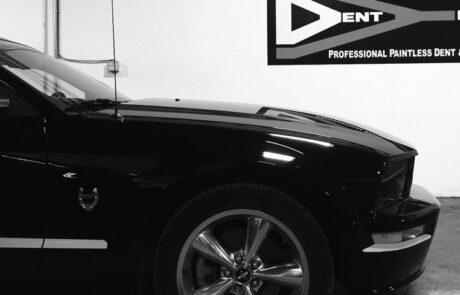 If you are unfamiliar with the process of paintless dent repair we can tell you it is one of the most environmentally friendly ways to repair the exterior panels of a vehicle. The process involves specialized lighting, a variety of hand crafted tools and keen hand eye coordination. The dents are removed by making calculated pushes to the back side of the metal, slowly massaging the metal back into place. This process does not affect your factory paint nor does it require replacing factory OEM panels. Our methods are significantly faster than conventional repairs and a lot less intrusive.
Trust the Dent Repair Experts
At Dented, our commitment to our clients is built on the same foundation as our company – a foundation of quality workmanship and exceptional service. Dented is proud to be a 100% Canadian company. The technicians we use are Vale certified, and they are trained to excel in all aspects of service. We consistently meet or exceed the expectations of our clients with the quality and timeliness of our repairs.
Dented is proud to be a repair partner for the Co-operators and Wawanesa Insurance and work with all other insurance companies offering our positive team attitude, industry leading skills, and a fair approach to delivering the quality repair you deserve.
Frequently Asked Questions
How long does paintless dent repair take?
dentforce
2023-03-27T16:15:39-06:00
The entire PDR repair process duration varies based on the extent of the dent. If you have minor dents in your car, you can expect the repair process to take around 2-3 hours to complete. If you have hail damage, it can take roughly one to two days. At Dented, we aim to provide an efficient yet effective service, so you don't have to keep your car in the shop for an extended period of time.
Is it worth it to get paintless dent repair?
dentforce
2023-03-27T16:15:58-06:00
Whether PDR is worth it or not is entirely up to you. However, we recommend getting PDR for any minor dents as it is more affordable, faster, convenient, and effective than traditional dent repair.
How much does paintless dent repair cost?
dentforce
2023-03-27T16:16:22-06:00
The cost of PDR depends on the severity of your dent(s). For an exact estimate, please contact us and book your car for a free consultation appointment. We can assess the damages and give you an exact repair cost.
Our Regina Dent Repair Reviews
Don't just take our word for it! Check out our awesome Regina dent repair reviews.
Request a Free Online Estimate
"*" indicates required fields