Paint Chip Repair Calgary
Discovering chips and dents on a vehicle's paintwork is disheartening for car owners. These imperfections not only diminish the overall appearance of the car but can also lead to more severe damages if left unattended. At Dented, we understand the frustration caused by these blemishes, and we are here to provide you with a quick and affordable solution to qualitatively restore your car's pristine appearance. We guarantee high-quality paint chip repair in Calgary and nearest areas.
Causes of Dents and Deformations
Before delving into the repair options, it is essential to understand the causes behind paint chips and dents. Factors like road debris, small rocks, gravel, and even minor accidents can lead to these imperfections. Left unaddressed, they can expose your car's metal body to rust and other structural issues. Dented is your reliable partner in dealing with the elimination of metal deformations, paintless dent removal, and other available deformations of the vehicle.
Rock Chip Paint Repair in Calgary at Dented
There are various methods for repairing chipped paint, but not all are equal in terms of quality and durability. At Dented, we specialize in rock chip paint repair in Calgary and offer a meticulous process to restore your car's finish. Our skilled technicians utilize advanced techniques to ensure seamless results that blend seamlessly with the original paint.
Advantages of Dented's Chip Repair
When it comes to car paint chip repair, Dented stands out for several reasons. Our process involves multiple stages, including:
Surface preparation.

We meticulously clean and prepare the affected area, ensuring that the repair adheres perfectly.

Professional color matching.

Our experts use cutting-edge technology to choose the paint color precisely, achieving a seamless finish.

Precision application.

The paint is carefully applied, layer by layer, to recreate the vehicle's original appearance.

Quality sealant.

We use high-quality sealant to protect the repaired area from future damage.
By focusing on attention to detail and using high-quality materials, Dented ensures that the repaired areas blend seamlessly with the rest of the paintwork, leaving your car looking as good as new.
Learn more about how to fix a car dent on our website.
Examples of Car Chip Paint Repair from Dented
Here is a series of photos we have taken before and after the car chip paint repair is done. If a picture is worth a thousand words, imagine what we can do for your vehicle.
Mercedes-Benz C-Class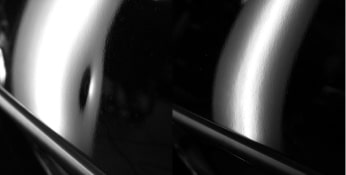 Mercedes-Benz AMG GT 4 puertas Coupé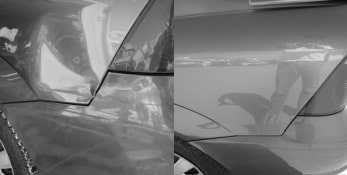 Honda Civic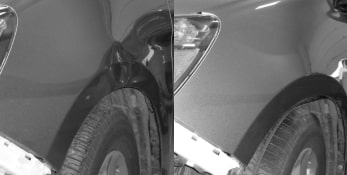 Audi Q8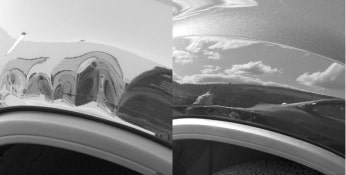 Subaru Impreza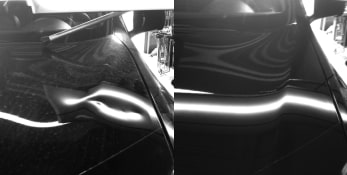 Nissan GT-R
Quality, timing and cost of paint chip repair from Dented compared to traditional repairs
At Dented, we believe in providing cost-effective solutions without compromising on quality. Our paint chip repair cost depends on the extent of the damage and the complexity of the repair required. We offer transparent pricing, and our team will provide you with an accurate estimate after assessing the condition of your vehicle.
Cost of Our Services
Price starts from $125 per ø 1″
Yes
You can check if there was a repair
No
No painting or body filler needed
Yes
Matches the color
100%
Door Dings repair time
A Day
Hail Damage repair time
1-2 Days
Minor Dents repair time
2-3 Hours to a Day
Traditional Dent Repair
Price starts from $125 per ø 1″
No
You can check if there was a repair
Yes
No painting or body filler needed
No
Matches the color
90%
Door Dings repair time
3-5 Days
Hail Damage repair time
1-2 Weeks
Minor Dents repair time
3-5 Days
At Dented, we take pride in our team of skilled professionals who are dedicated to delivering exceptional results. Our commitment to providing high-quality rock chip paint repair sets us apart from other repair options. Trust us to restore your vehicle's paintwork to its former glory in a short time and at affordable prices.
Contact Us for High-Quality Chip Paint Repair in Calgary
Ready to give your car the care it deserves? Contact us today for a free quote and experience high-quality rock paint chip repair in Calgary at Dented. On our website, you can fill out the contact form. Or, call us directly at 1.833.683.3227. Your satisfaction is our priority!
We service the following brands of cars
Dent Repair Frequently Asked Questions
Request a Free Online Estimate
"*" indicates required fields