What is a Door Ding?
A Door Ding is a dent that occurs when a door strikes the side panel of another vehicle, while both are parked side by side. The dent often has impact scratches on it, as the door is moving when it comes into contact with the painted metal surface of the other vehicle's panel. The dent appears to be round, but is often egg shaped, as it was created in a swinging motion. One end of the dent will be shallow, the initial contact, and the other end will be deeper at the stopping point of impact.
The Process of Removing a Door Ding
The first step in the door ding removal process is to polish all impact scratching out of the dent, so a clear view of the painted surface can be seen for massaging out the dent. The technician must determine the best tool for the job, and make sure there is sufficient clearance between the glass and door skin to use that tool.
Access to get to the backside of the dent is done through the window opening. This is the area between the window glass and the door skin, the molding at the bottom of the door window opening called the Belt Molding is removed, to allow for tool access. A protective sleeve is put on the door glass to prevent any scratching from the PDR tool.
Using a special light that reflects off the vehicle's painted surface, the technician can determine the dent shape. Starting with our massaging process, were little pushes are made that moves a small portion of metal at a time, the technician begins in the center of the dent. The massaging process is used over the entire diameter of the dent, until the metal has returned to its original position on the panel. A second polishing may be required to remove any remaining evidence of impact scratching.
To get know how much to repair a door ding cost, contact our specialists.
Comparison: Paintless Dent Repair & Traditional Dent Repair
Paintless Dent Repair
Price starts from $125 per ø 1″
Yes
You can check if there was a repair
No
No painting or body filler needed
Yes
Matches the color
100%
Door Dings repair time
A Day
Hail Damage repair time
1-2 Days
Minor Dents repair time
2-3 Hours to a Day
Traditional Dent Repair
Price starts from $125 per ø 1″
No
You can check if there was a repair
Yes
No painting or body filler needed
No
Matches the color
90%
Door Dings repair time
3-5 Days
Hail Damage repair time
1-2 Weeks
Minor Dents repair time
3-5 Days
Before and after
Here is a series of photos we have taken before and after the work is done. If a picture is worth a thousand words, imagine what we can do for your vehicle.
Mercedes-Benz C-Class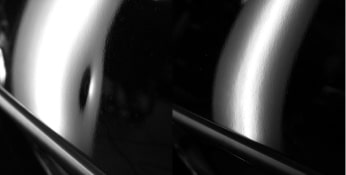 Mercedes-Benz AMG GT 4 puertas Coupé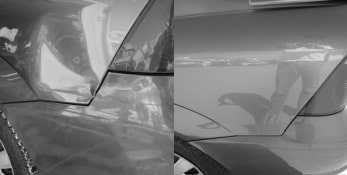 Honda Civic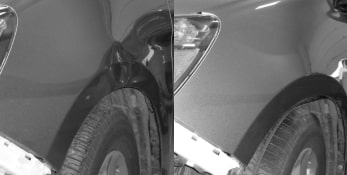 Audi Q8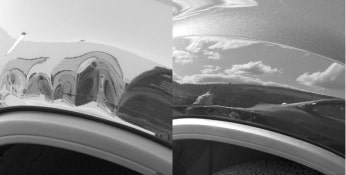 Subaru Impreza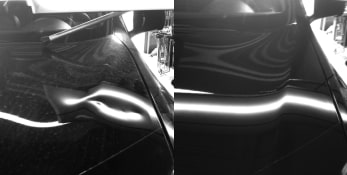 Nissan GT-R
We service the following brands of cars
Frequently Asked Questions about Dent Repair on a Car Door
Request a Free Online Estimate
"*" indicates required fields