Every summer, there are multiple hailstorm occurrences in Alberta and the Calgary area. Each leaves in its wake damage to property amounting to millions of dollars. Out of all provinces in Canada, Alberta records the highest number of hailstorms. It is not a wonder that the region also leads in insurance claims. The increased frequency of this natural phenomenon has resulted in business and homeowners looking for ways to fix a car dent and mitigate their losses.
A major concern is that you might have to keep spending money on repairing your car after every hailstorm and sadly no one knows exactly when the next hailstorm will happen. Hail damage to your vehicle is a potential every summer and so you and your insurance company always need to think of ways to protect your car and fix any damage that Mother Nature may cause.
When it comes to the fix, hailstorm damage repair requires the input of a professional. Usually, the task involves removal of debris and repairs to dents. In most cases, a PDR certified auto specialist can push and pull dents from the frame of your vehicle (without impacting the paint or the body) to get your car back to looking as good as new.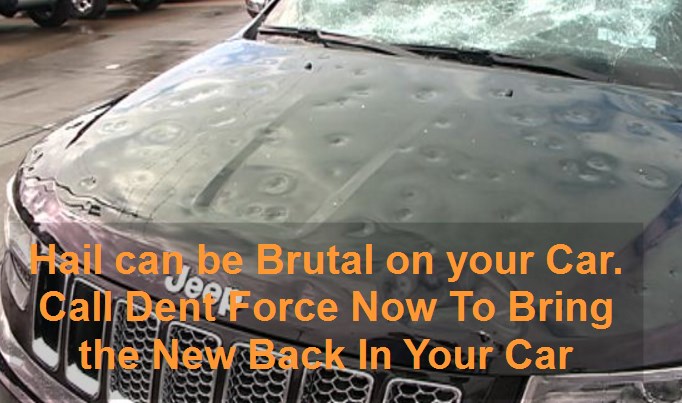 Other benefits of using a professional service to take care of your storm damage.
It saves you time
If you try to do it on your own, dent removal can take you weeks or even months. Worse still if you do not have the right set of tools and the knowledge on how to go about it, you could end up working on your car for weeks on end without actually fixing the problem. However, with professional PDR certified dent removal, a professional technician can finish the repair work in a few hours (or days) and get you back on the road quickly.
Cost-saving
Unlike the repair tasks that you carry out in your backyard, professional dent removal is not a costly affair. Auto garages are commercial establishments that exist to provide services to many motorists. Owners of these businesses price their services in a way that they can meet their running costs. For you to attempt such repairs at home, the cost of equipment alone will disappoint. You can also read an article about how car insurance cover dents.
The above benefits are a pointer to the fact that it is wise to take advantage of a professional Dent Removal Company to counter the effects of Calgary's unusual weather. You save money, time and the car you drive retains its current value. Always keep your car in top shape as an act of defiance against hailstorms.