Download Hailstorm Alley Infographic
Are hailstorms ruining your car while driving your insurance rates up? Each year, Albertans are faced with disheartening hail storms resulting in severe hail damage across the province. 
In this article, we're taking a look at some of the most devastating hail storms in the most hail-prone region in Canada: Hailstorm Alley. Discover how Albertans have been affected by these storms and how much money is being spent on hail damage each year.
Keep reading until the end of the article to learn the most painless, cost-effective, and efficient way to fix hail damage on your vehicles!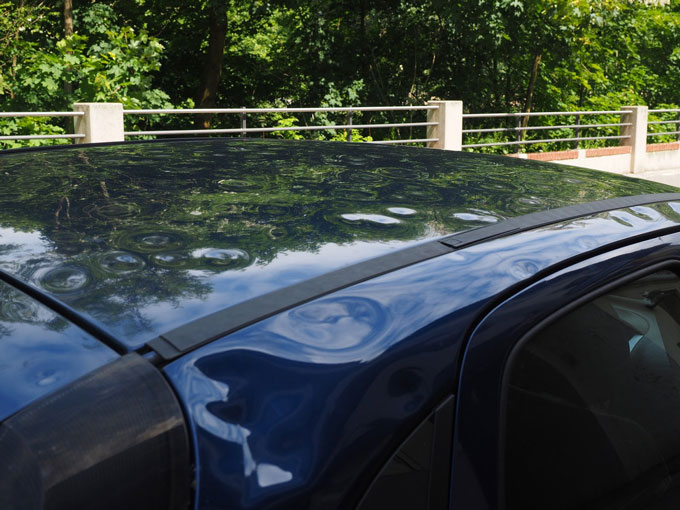 Where Is Hailstorm Alley?
With more than half of Canada's severe weather claims coming from Alberta, Hailstorm Alley rightfully got its name. Albertans living near Rocky Mountain House, Red Deer, Calgary, and surrounding areas are constantly affected by notably more extreme hail, torrential rain and damaging storms than other areas in the country. Since Alberta is on the edge of the Rocky Mountains, the mountains and elevation help create hail. The icy and dry currents from above the mountain peaks mix with the low moist air levels, making a perfect hail storm recipe. 
These detrimental weather events leave ill-fated families in the area with costly bills to pay and significant damages to restore. 
A Breakdown of Costs in Hailstorm Alley 
$1.66 billion. That is how much weather damage has cost Alberta insurance companies from 2010-2014.  
Wind, water, and hail continue to wreak havoc on vehicles in Southern Alberta, resulting in increased damages in the area. Unfortunately, hail damage leaves many Albertans feeling powerless as they have to continuously pay and repair their vehicles due to something they can't control. 
In the following sections, we'll discuss key statistics from the most catastrophic hail storms in Canada. Were your family or friends affected by any of these storms? 
Alberta's Worst Hail Storm Pummels Calgary
On June 13th, 2020, Calgarians were confronted with the most significant and most expensive hail storm in Canadian history. Severe damage affected North Calgary and surrounding areas, such as Airdrie and Rocky Mountain County. Families and businesses felt hopeless with smashed windows, and immense car damages. Families are still struggling to come out from under their costly insurance premiums and vital home and car repairs. 
The following statistics demonstrate the true level of devastation caused by this weather event: 
The Second Worst Hailstorm in Alberta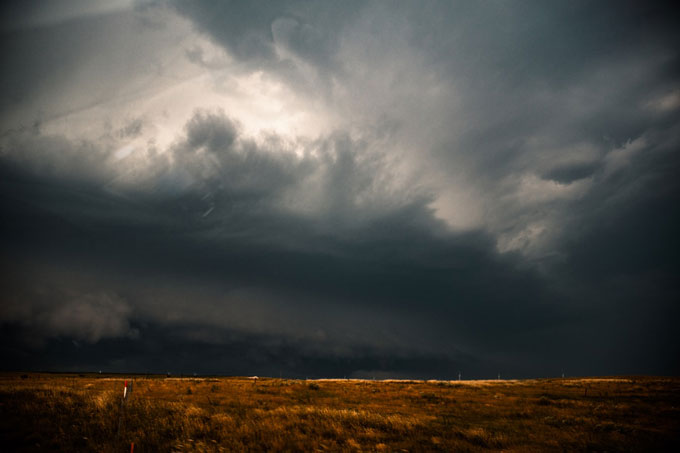 On July 12th, 2010, baseball-sized hailstones pounded Calgary properties. You would think this half-hour hail storm was playing its own ball game, with the resulting massive car dents and shattered windshields. Before the 2020 hailstorm, the catastrophic damages resulting from the 2010 hailstorm made it the most costly hailstorm since 1991. 
 Here are some statistics that show the degree to which Albertans were affected by this incredibly massive and devastating storm: 
Third Worst Hailstorm in Alberta
August 8th, 2014, was a very gloomy day in Hailstorm Alley. Heavy tennis ball-sized hailstones were a rude reminder to Calgarians that it was time to face another round of hail damages. This heavy storm was caused by extreme wind, torrential rain, and large hailstones. Families in Alberta were yet again in knee-deep payments with higher insurance premiums and dented cars.
Although this hailstorm was less devastating than the two storms we discussed above, it still left tens of thousands of policyholders with costly damages to their properties: 
Fourth Worst Hailstorm in Alberta
Hailstorm Alley faced a severe hail and windstorm on the 12th and 13th of August, 2012. Individuals assessed the storm on the 12th and started parking their cars in garages, covering windows, and trying to save their outdoor gardens and plants. Still, they could save only so many vehicles. Unfortunately, the next day, the city got hit with a second hail storm that caused even more detrimental damage. 
These tag-team storms ranked as one of the top 10 worst natural disasters in Canadian history, and the following statistics prove why:
Fifth Worst Hailstorm in Alberta
In July 2015, visitors and tourists of the Calgary Stampede were introduced to the true wrath of Hailstorm Alley. Heavy hail and flash floods bombarded the Stampede grounds, south Calgary homes, and surrounding areas, leaving Calgarians helpless. Tourists understood why "Hailstorm Alley" got its name when seeing all the dented car hoods and broken windshields.
Even though this is the least severe hailstorm on our list, it still greatly affected those who witnessed it and had to deal with the outcomes of this severe weather event: 
How does Hailstorm Alley Compare with Other Regions in Canada?
Hail is a common weather phenomenon faced by Canadians, yet it is unequally distributed amongst the provinces. Hailstorm Alley proves again and again to be the hailstorm capital of Canada. The Institute for Catastrophic Loss Reduction shows significant increases in hail frequency in Alberta, decreasing frequency in Manitoba and Saskatchewan, and no changes in Ontario. With the rising hailstorm frequency in Alberta, it's essential for Albertans to learn how to manage the significant increases in hail damage and severity to mitigate the impact of these storms going forward. 
What Does Hailstorm Damage Repair Look Like in Hailstorm Alley?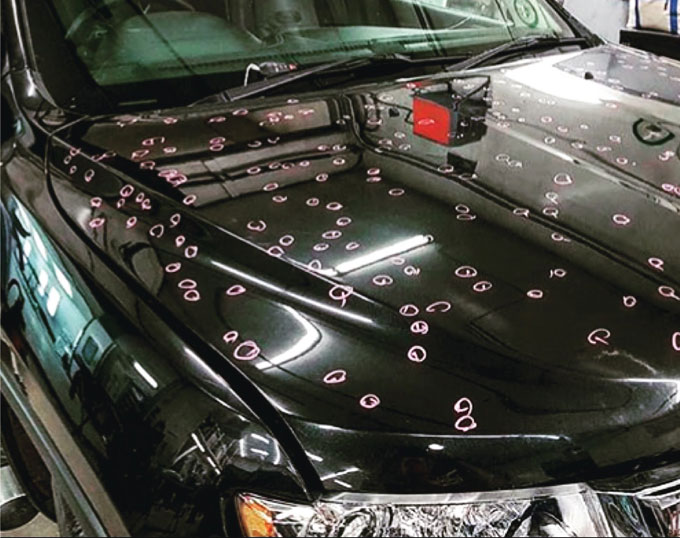 Following these severe hailstorms, Albertans are overwhelmed, vulnerable and frustrated. In most of the previously listed storms, insurance companies took up to a year to resolve each submitted claim. 
At Dented removal company, we prioritize your needs by working with adjusters to determine the shape of your vehicle and the necessary repairs required to help your vehicle return to its former glory. We know how stressful and frustrating this process is, so we work with you to make it easy and efficient. With the frequency of hailstorms increasing in Alberta, it is essential to have a trusted body shop in mind that offers hail damage repair at the best price. Contact us when the next storm hits, and let us bring your car back to life!