Alberta Spring and Summer Hail Damage
In central Alberta, the weather system during spring/summer causes a lot of fields, homes, and vehicle damage. Hail starts from a harmless snowfall, it grows to pebbles and eventually the size a golf ball or a tennis ball. The largest measurement of hail recorded is about 10 centimeters in size. If this type of hail pelts the front and back of your vehicle body, your car body will be peppered with numerous ugly dents.
The storms and flash floods in this region are usually terrifying. These crazy storms normally affect Calgary and Edmonton residents and occur during the month of June and run until September. The storms are usually sudden and short-lived; at times, they come with tornadoes and severe thunderstorms. Other damages might include cracked windshield, broken headlights, and shattered windows.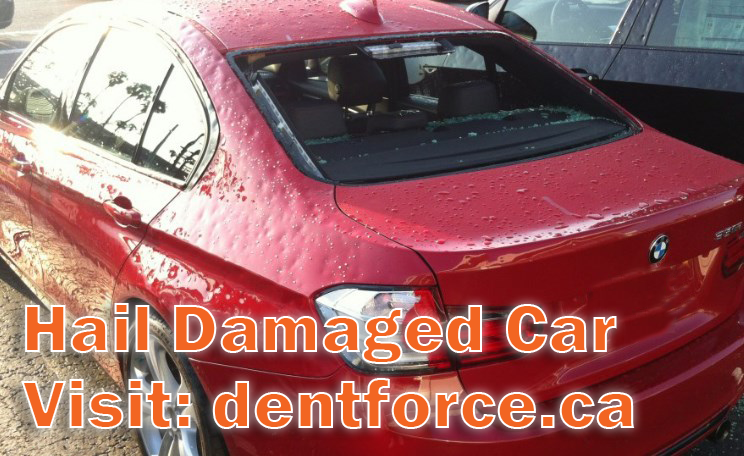 Each year hail storms hammer vehicles creating a nightmare to insurers. If you get a comprehensive or all perils auto insurance (optional) early, you will be covered for damage to vehicles from wind, hail or water. To start the claim process there are things that you should do:
Contact your insurance broker and report
List your damages with proof (photos, warranties, and receipts)
Review your policy and Claim your cover
Go through a vehicle inspection
Get vehicle repair/cash out based on the estimates
The hail storm might leave you with an expensive repair bill if you are not covered. There is no doubt that you will be in need of a professional auto body repair company to help you get your vehicle to its showroom state. With modern technology, it is possible to eliminate the numerous dents on your vehicle using the paintless dent removal method [PDR].
Professional Auto Body Repair Shop
If your vehicle has hail damage and is repairable, your insurance company may recommend you to a professional paintless dent repair shop, after they have inspected the damages and obtained an estimate. The PDR process, massaging the vehicle body gently until the dents are removed, is popular in auto body repair shops. It is favored because it preserves the original factory finish.
Your vehicle will be evaluated again by the technicians to ensure that the estimate is accurate. If you opt for a traditional repair process, it will take at most 1-2 weeks, but if you go for PDR the repair will be completed in as little as 1-2 days.
Traditional Dent Repair Process
Some companies use automatic finishes, while other use manual finishes to remove dents from damaged vehicles. With a high build, fast drying primer it is easy to perform filling and sanding activities with ease.
Traditional dent repair:
The dents are marked and the region is properly cleaned and sanded.
A special primer is applied to fill the dents and allowed to dry.
Sanding process is repeated until the surface is flat.
The surface is again cleaned and 2-3 coats of primer is applied.
The sanding process is repeated using various sandpapers grades.
The region is then sealed with a special primer
The finishing is done with a top and base coating
Paintless Dent Removal (PDR)
Severe vehicle body damage requires panel replacement or paintless dent repair processes. PDR is popular because it is an inexpensive and effective process. This process does not use fillers or sanding materials, it corrects dings and dents by applying gentle pressure to the backside of the metal massaging the dents back to their original position, without affecting the coating. This process requires a custom dent removal kit, techniques, skills and expertise.
Our specialists will access your damage and do their best to remove 100% of your dents. We offer affordable cost to repair small dent on a car or to fix your door ding. As a professional auto body repair company, we aim to make the process a less costly venture for our clients. Contact us and we will massage your vehicle to its best form.